Before finding a new home for your pet, read through our pet help resources to help solve any possible challenges you may be facing as a pet owner.
LifeLine Animal Project understands that sometimes even after careful consideration of options, people may no longer be able to care for their pets. Instead of bringing your pet to an animal shelter, there are many steps that you can take to find a new home for your pet while the pet is still in your care. As the pet's owner, you know them the best! And it will be much easier for you to identify and screen potential adopters for the best home.
Rehoming your pet may not be a quick process; it often takes weeks and sometimes months. Spread the word! The more people who know that your pet needs a new home, the more likely you will find the right home. Tell your friends, family, and co-workers, and ask them to do the same.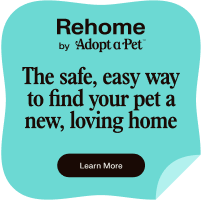 Create An Online Profile
Start by creating an online profile with Rehome.Adoptapet.com. Be sure to include a really cute photo of your pet to attract potential adopters. Your pet's profile will include details such as interactions with other pets, if your pet is spayed or neutered, and a bio describing your pet's personality.
Share your pet's Rehome profile on social media platforms such as Facebook, Instagram, and Twitter, and post in online neighborhood groups on Nextdoor. Ask everyone to help you find your pet a new home by sharing your post!
Remember to think about your pet's individual needs when meeting with potential adopters. Does your dog need a yard to play in? Does your cat prefer special cat litter? This will help you to determine which adopter can provide the best home for your pet.
Make your pet more adoptable by making sure they are spayed/neutered and up to date on vaccines before re-homing them. Our affordable spay/neuter and veterinary resources can help you with this.
Additional Help
Check out these additional re-homing resources from Best Friends Animal Society.
Find a rescue organization willing to take in your pet. Georgia SPOT Society has a list of rescue groups within the Atlanta area. Many of these organizations are composed of volunteers with limited resources so offering a monetary donation to help cover food, shelter, and especially medical expenses will go a long way toward helping your pet get the resources it needs. Please be patient when waiting for a return call as it may take a few days.
Pet Help Request Form
Please fill out this form if you need additional assistance with finding a new home for your pet. We will do our best to help directly where we can, and if we cannot assist with your situation directly, we will point you in the direction of resources.